As Black Friday approaches, eager photographers and videographers alike are on the lookout for the best deals on cameras. Whether you're a seasoned professional or just starting out, there's a perfect budget-friendly camera out there for you. With Black Friday's incredible discounts, you can capture stunning images and cinematic videos without breaking the bank.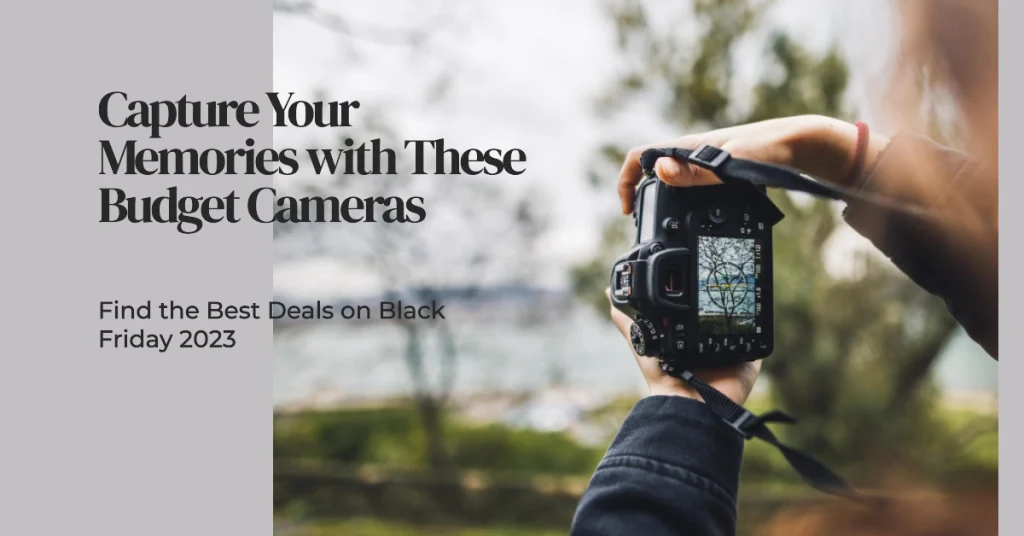 In this comprehensive guide, we'll delve into the world of budget-friendly cameras, highlighting the top picks for both photography and videography. We'll explore their features, specifications, and performance, ensuring you make an informed decision that aligns with your creative needs.
Budget-Friendly Cameras for Photography
For those seeking to capture breathtaking still images, a budget-friendly camera can be a powerful tool. Here are some of the best options to consider:
This compact mirrorless camera packs a punch with its 24.3MP APS-C sensor, fast autofocus system, and impressive image quality. It's perfect for everyday photography and travel, allowing you to capture stunning landscapes, portraits, and action shots with ease.
This lightweight and affordable DSLR offers a 24.1MP APS-C sensor, a 9-point autofocus system, and a versatile range of shooting modes. It's an excellent choice for beginners and hobbyists, providing a seamless transition from smartphones to DSLR photography.
This entry-level DSLR boasts a 24.2MP APS-C sensor, an 11-point autofocus system, and a user-friendly interface. It's well-suited for capturing everyday moments, family gatherings, and outdoor adventures.
Budget-Friendly Cameras for Videography
If you're passionate about creating captivating videos, there are several budget-friendly cameras that can elevate your filmmaking skills. Here are some of the top contenders:
This versatile mirrorless camera offers a 16MP Micro Four Thirds sensor, 4K video recording capabilities, and a range of creative video features. It's a great choice for vloggers, filmmakers, and content creators who demand high-quality video output.
This compact mirrorless camera features a 24.2MP APS-C sensor, Full HD video recording at 60fps, and a vari-angle touchscreen. It's ideal for travel vlogging, capturing everyday moments, and producing creative video projects.
This lightweight mirrorless camera is specifically designed for vlogging with its 20.1MP APS-C sensor, 4K video recording at 30fps, and advanced autofocus capabilities. It's a great choice for aspiring vloggers and social media enthusiasts.
Where To Find Black Friday Deals on Cameras
Here are some of the best places to find Black Friday deals on cameras in 2023:
Online retailers: Major online retailers like Amazon, B&H Photo, Adorama, and Best Buy often have significant discounts on cameras during Black Friday. These retailers typically offer a wide selection of cameras and accessories, and they often have competitive prices.
Electronics stores: Brick-and-mortar electronics stores like Best Buy, Walmart, and Target also participate in Black Friday sales. These stores may offer doorbuster deals on cameras, and they may also have a wider selection of in-store inventory compared to online retailers.
Camera manufacturers: Some camera manufacturers, such as Canon, Nikon, and Sony, offer their own Black Friday deals on their websites and authorized retail partners. These deals may be specific to certain models or product bundles.
Refurbished camera retailers: Refurbished camera retailers like Amazon Renewed and Adorama Refurbished offer significant discounts on pre-owned cameras that have been inspected and certified to be in like-new condition. These cameras can be a great option for budget-conscious shoppers.
Additional Tips for Black Friday Camera Deals
To maximize your savings and snag the best deals, here are some additional tips to consider:
Set a budget: Determine how much you're willing to spend before the Black Friday sales begin.
Research camera options: Identify the features and specifications that are important to you and research different models within your budget.
Compare prices: Utilize online comparison tools and price trackers to monitor price fluctuations and identify the best deals.
Act quickly: Black Friday deals often sell out quickly, so be prepared to make a decision and purchase promptly.
Consider refurbished options: Refurbished cameras often offer significant savings and are backed by warranties.
Remember, the best camera for you depends on your individual needs, preferences, and budget. Take the time to research, compare models, and consider your creative goals before making a purchase.
With careful planning and the right strategy, you can capture the Black Friday camera deals that align with your passion for photography and videography.